Piggery Projects
Each school has received a tranche of 1,000,000 Ugandan Shillings, every year for three years to build, maintain and develop a piglet project. In our efforts to encourage excellence in agriculture they have taught children how to look after these pigs.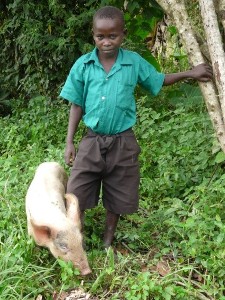 Despite drought, lack of food, having to make tough decisions about care during the holidays, inexperienced staff and illness and in some cases death, nine of the ten projects are going well. One project was struck badly by swine fever. As each sow has a litter, children in Year 6 & 7 apply and are selected to care for a piglet at home. When the piglet is mature they can either breed or sell and the family and school share the income.
As you will read and see a by-product of the school piglet projects has been the necessity to use the school gardens for feeding the pigs. The result has been that when the maize is harvested the school can feed the children and staff, while the pigs eat the roughage! We have provided hoes and slashers to help in the gardens.
Stylish sties, breeding sows, happy piglets and interested children.
School gardens grow maize, beans, potatoes and kasava
An application letter to look after a piglet at home.